Playing Shakespear,This is what Pegasus classes look like!
        Release Time:2022-06-29 09:27
Immersive stage setting,A screenplay adaptation with distinctive personality and faithfulness to the original work,Professional and mature stage scene scheduling,Superb English speaking skills and on-the-spot performance, carefully prepared costumes and props...
It's hard to imagine that an ordinary English class can interpret Shakespeare's classic plays so wonderfully by a group of teenagers with such high quality. Regardless of the form, any artistic expression can become a "tool" for teachers to teach. You can always look forward to Pegasus classes!
Play Introduction: Macbeth is a classic play created by the British playwright William Shakespeare and is one of his "Four Tragedies". The story is based on the ancient English historian Raphael Hollingsett's Scottish Chronicle. It tells the greed for power of General Macbeth and Lady Macbeth, who were greedy for power. They murdered the king and usurped the throne, killed innocent people indiscriminately but were eventually overthrown. Shakespeare critics believe that Macbeth reaches its zenith in Shakespeare's tragedies created from historical sources. Macbeth has been widely adapted into various stage and film productions.
On the basis of in-depth analysis of the original work, and on the premise of maintaining the integrity of the story, Pegasus students adapted and recreated the work.
Instructor: Matthew
Screenwriters: Zera, Steven
Directors: Zera, Steven
Narrator: Steven
Props: Zera, Sophie
Cast: Frank, Alice, Michael, Sandra, Benson, Jade, Zera, Sophie, Catherine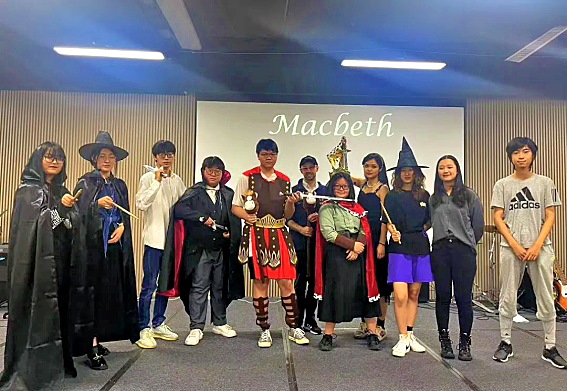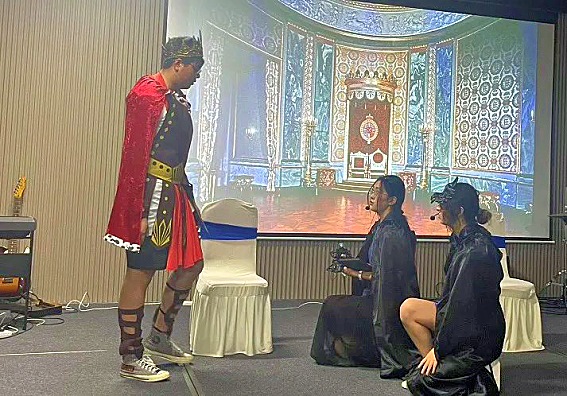 Feel the art in practice and promote growth
English drama is a highly demanding presentation in literature and art. Mr. Matthew, the English teacher, hopes to encourage students to boldly express themselves, explore themselves and think about human nature.
Macbeth is Shakespeare's most famous work of all tragedies. The on-site performance was less than an hour, but behind it all the students' long-term and meticulous preparations were made. Faced with this nearly 10,000-word English script, everyone must master the way of thinking in English to interpret it, and improve literature by studying Shakespeare's original works. Literacy and finding empathy are undoubtedly a comprehensive improvement of English listening, speaking, reading, and writing skills.
For high school students, it is undoubtedly a bold challenge to create a classic Shakespeare play. The director needs to combine multiple rehearsals to complete the stage scene design, while the actors need to continue to go deep into the original work and through repeated practice to better understand the characters, in order to achieve the most perfect performance effect. During the whole process, the students are constantly breaking through themselves, and at the same time, they are constantly feeling the charm brought by the drama art.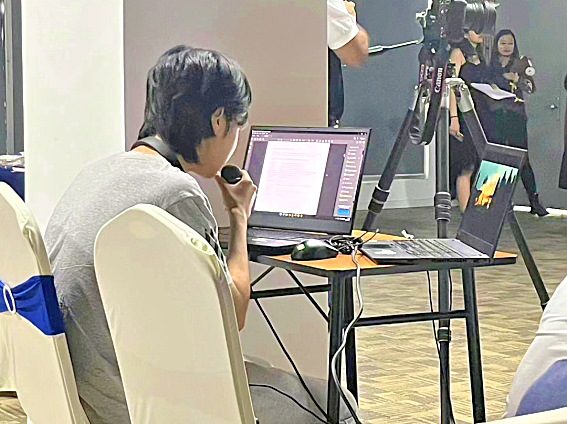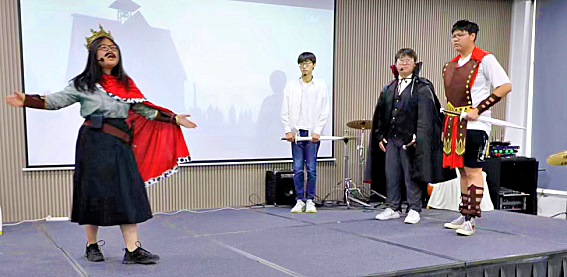 Mr. Matthew provided professional guidance for students in English literature analysis, stage performance, line training, breath control, role positioning, scene soundtrack, etc., and assigned tasks to each member in detail. He said: "In the big family of Macbeth, each student has found their own precise positioning. Through a project, a performance, and an exercise, students can adapt from script, choreography, performance, soundtrack, design, etc. The students showed their understanding and enjoyment of drama, developed teamwork and individual skills, and mastered various ways of conveying emotions and communicating ideas to the audience. It was an interesting process , drama is one of the key ways to give students the opportunity to practice their spoken English and use project-based learning to give them the freedom and personalisation to engage with content that interests them most."
Mr. Matthew carefully assigned the tasks for each student
Everything is aimed at inspiring students
The charm of Mr. Matthew's English classroom combined with drama is that he does not adhere to the fixed form of education, while everything aims to inspire children's potential, and uses the elements of drama to design various experiences to penetrate into education, so that the classroom can become a stage, where every student can create beauty while feeling beauty, appreciating beauty and performing beauty. Macbeth is Shakespeare's classic play, a wonderful display of the richness and depth of human nature. The students are actors themselves. Once they are integrated into the roles, they will inevitably have a deeper and personalized understanding of the spirit of the characters in the play, and at the same time, they can also feel the vivid charm of the dramatic language.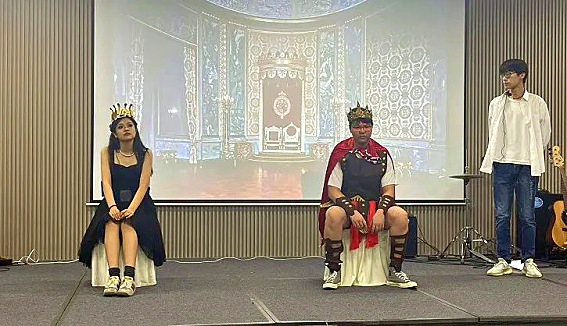 Drama education is very popular in schools in many countries around the world. It is not only conducive to students' personality development, self-confidence development, stimulation of creativity, leadership, communication skills, etc., but more importantly, it helps students to develop learning and even ways of perceiving the world. The original intention of Pegasus School is to adapt pure international education to Qingdao, introduce original high-quality international top educational resources, share global wisdom, and practice international courses. In the future, Pegasus School will continue to practice "Be Inspired", guide students to explore true knowledge and solve problems in practice, and cultivate them to become international talents with all-round development.